Meet Dr. Matthew T. Goslee
Matthew T. Goslee, DMD, MPH
I feel honored to be a pediatric dentist, and I love to work with kids and their families to help them with their unique needs. I am focused on prevention and helping with the specific needs of children so they may have a positive dental experience. I like being a pediatric dentist because it allows me to work closely with patients and parents, whether it is helping to solve a particular problem that improves quality of life, or teaching kids how to take good care of their smiles!
Education and Continuing Education
Dr. Goslee feels lucky to be part of this dental practice and to serve patients in the Bristol area. After graduating from the University of Connecticut's School of Dental Medicine, he completed a three-year specialty training residency in Pediatric Dentistry at the University of North Carolina, Chapel Hill. While at UNC he also received a Master of Public Health degree and served as chief resident in pediatric dentistry.
Dr. Goslee uses the newest techniques and materials in taking care of each patient and he is always trying to improve the way he practice by taking continuing education courses in pediatric dentistry, pediatric medicine, and orthodontics. To stay current with learning, He is active with the Gnathos Study Club, an excellent orthodontic and pediatric dentistry continuing education group.
For the past 5 years Dr. Goslee has been an officer with the Connecticut Society of Pediatric Dentists, serving as their secretary and treasurer. He is also an active member with the Bristol Dental society and with both the American Academy of Pediatric Dentistry and American Board of Pediatric Dentistry
Experience
Dr. Goslee has over 11 years of experience with general & pediatric dentistry and orthodontic treatment. In 2009, 2010, and 2015 he was voted by his peers as a "Top Pediatric Dentist in Connecticut" for Connecticut Magazine. Dr. Goslee is a Board Certified specialist in pediatric dentistry with the American Board of Pediatric Dentists; He is also a Fellow of the American Academy of Pediatric Dentistry, and a long standing member with the American Dental Association. He also serves as the dental advisor to many local daycare centers and pre-schools and volunteer at the Bristol Head Start/Bristol Community Organization.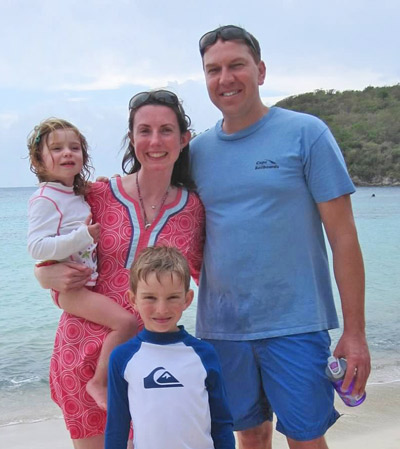 Dr. Goslee feels fortunate to have volunteered his time visiting both Peru and Haiti. While in Haiti for 8 weeks he helped in various health clinics with both dental education and tropical medicine and dentistry research for the many villages surrounding the city of Jeremie. While in Peru for two weeks, he helped children and adults with various dental problems along the Amazon River traveling by boat to a different town each day.
Outside the Office
I was born and grew up in Falmouth, MA about two hours from here. I played baseball, soccer, tennis and basketball through most of school. I met my wife, Julie at UCONN Health Center while in graduate school, and she works at Hartford Hospital now. We love to spend time with our two great kids and go on hikes with our energetic dog. My favorite activities include mountain biking, hiking, playing indoor soccer at FSA, tennis, cooking, and coaching. I have been coaching baseball and soccer for years now and it is a lot of fun watching the kids grow and develop new skills.
I hope you will come see us at our office and meet our wonderful team—I could not do any of this without them!